HYDROVISION INTERNATIONAL® BROUGHT 2,000 HYDROPOWER PROFESSIONALS TO DENVER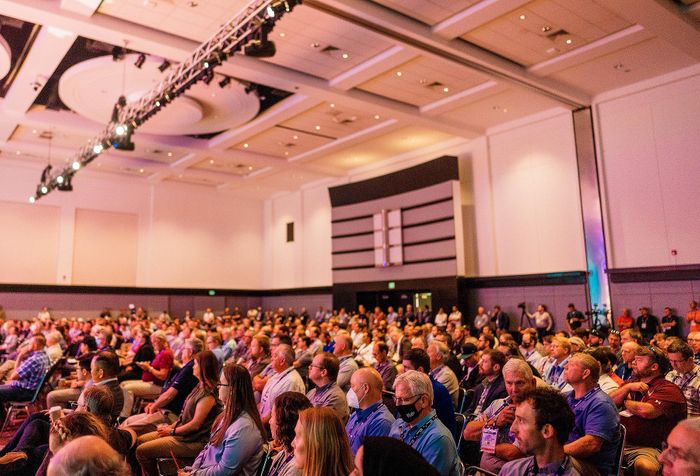 (Shelton, CT, July 18, 2022) --- HYDROVISION International® remains the largest international hydropower and dams industry event, bringing together over 2,000 hydroelectric power professionals July 12-14, 2022, in Denver, Colo., U.S.
Backed by host utilities Denver Water and Xcel Energy, Clarion Events' HYDROVISION International® offered four days of unparalleled opportunities for the industry to learn, network and source solutions for upcoming hydro projects.
"I was incredibly excited to come to HYDROVISION and be a speaker. We have some really important issues going on in the Pacific Northwest that is threatening the very future of hydropower, so to get in front of this international crowd and get to share with them what's at risk and why advocacy is so important was an amazing opportunity," said keynote speaker Kurt Miller, Executive Director of Northwest RiverPartners.
This year's annual event attracted over 2,000 hydro industry professionals and 219 exhibiting companies from 42 different countries. 51% of attendees were power producers including U.S. Bureau of Reclamation, U.S. Army Corps of Engineers, ITAIPU Binacional, and 130 more power producing companies.
"We are a proud veteran-owned small business and are excited to be a part of HYDROVISION, surrounded by all the people who support this proud, growing industry where power producers, suppliers and various manufacturers are all in attendance. One of the things I'm really excited about is not only the growth of hydro, but the opportunities specifically on the West Coast for offshore wind and wave. Being tapped into these renewable opportunities is exactly what people ought to be doing and it starts right here, with people like this at HYDROVISION," said Michael Moore, Vice President of Business Development at Thompson Metal Fab, Inc.
"We've been at HYDROVISION International® every year since its inception and we've had the best show we've ever had this year. The traffic's been amazing. Some of the projects and industry knowledge that we've gained at this show has been higher than any shows that I have been to to date. This will be a really high return on investment and we look forward to next year's show," exclaimed Zack Almont, Power Generation Specialist at Victaulic
"The hydroelectric power generation sector is beginning to make significant investments into digital and automation so it's an exciting time for companies who deliver products and solutions that enable that transition. The energy at HYDROVISION has been fantastic and it's been great to see the industry come together after so long. ABB is pleased to have been a part of the event," added Chadi Mourad, Sales and Business Development Manager for Power Generation and Excitation Systems at ABB.
Over 70 education sessions were available for participants to learn from and stay up to date on the industry's latest trends and insights. Additionally, attendees and exhibitors had 10 networking events to choose from to connect with old friends, new peers, and potential partners.
"The energy emanating from the amazing hydro professionals in Denver was second to none. We had an incredible turnout with 51% power producers in attendance, 45% of which have open or upcoming projects, reconfirming HYDROVISION International as the leading hydropower event worldwide," said Desiree Hanson, Executive Vice President for Clarion Events.
"It was such a rewarding experience to be able to bring the hydro community back together face-to-face at HYDROVISION International® and give back to the industry that means so much to all of us. Through our partnership with the Hydropower Foundation and a dollar-for-dollar match of their ticket sales for their co-located Murder Mystery charity event, we were able to help raise close to $10,000 going directly back into education, research, and workforce development for our great hydropower industry," added Leah Steinhardt, Generation Portfolio Director of Clarion Energy at Clarion Events.
The next iteration and 29th annual HYDROVISION International® will be in Charlotte, North Carolina July 11-13, 2023. Over 100 exhibitors have already signed on and the Hydropower Foundation and International Hydropower Association have confirmed partnerships. Speakers and power producers will be announced in the coming months as registration opens. Check hydroevent.com for frequent updates as the hydro industry's 2023 event evolves.
----------------------------------------------------------------------------------------------------
About:
HYDROVISION International® is the largest gathering of hydro professionals worldwide, which highlights perspectives on the role of hydropower, explores issues affecting hydro resources, and helps participants develop a vision to meet challenges and ensure the future sustainability of hydro. Visit hydroevent.com for more information.
Organized by Clarion Energy, which is part of Clarion Events, Inc. With over 30 events that cover the oil, gas, power, and energy sectors, Clarion Energy is one of Clarion Events Inc.'s largest portfolios. Learn more here: clarion-energy.com