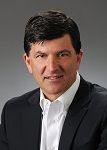 Carl Borgquist
Chief Executive Officer
,
Absaroka Energy
Mr. Borgquist is responsible for Absaroka Energy's corporate strategy, management and operations and is focused on harnessing Montana's abundant alternative energy resources as well as the state's skilled and talented work force. Mr. Borgquist is actively engaged in the renewable energy community nationally, regionally and locally. With experience in capital markets, finance, law and renewable energy development, he is a sought after presenter and leader contributing to our regional and national energy policy.
Mr. Borgquist previously served as a District Attorney for Alameda County, in the US Navy as a Judge Advocate, as a Special Assistant United States Attorney, and with the Davidson Companies as Director of Wealth Management. He has been heavily involved in energy development since 2005.
He holds a Bachelor of Arts in Political Science and Public Administration from California State University and a law degree from the University of San Francisco.