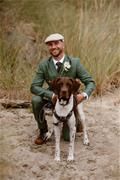 John Hayes
FCRPS Asset Manager
,
Bonneville Power Administration – PGA-6
I currently lead the asset management program for the Federal Columbia River Power System (FCRPS), which is includes 31 multipurpose hydroelectric plants in the Pacific Northwest delivering power to 60% of the region and accounting for 90% of the region's renewable energy. The FCRPS is a collaborative operation with Bonneville Power Administration (BPA) as the power marketer, and the U.S. Army Corps of Engineers and Bureau of Reclamation as plant operators.
Prior to this position, I worked throughout the nation with the U.S. Army Corps of Engineers from 2005-2021 with a broad background spanning Asset Management, Program/Project Management, Engineering, Regulatory, Geospatial Technologies, Inland and Coastal Navigation.