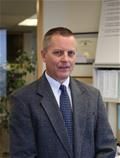 Michael Haynes
Generation Operations and Engineering Officer
,
Seattle City Light
United States
Mike has over 35 years of experience in leadership, design, construction and operations associated with generation, transmission and distribution for electric utilities and developers.
He joined Seattle City Light in 2000 and has worked in a variety of engineering and operations management positions. Prior to working at City Light, he spent 13 years with Puget Sound Energy, followed by 7 years with HDR Engineering.
Mike is the Officer for Generation Operations and Engineering for Seattle City Light and serves on the City Light Executive Team. He serves on the NHA Board of Directors.